Filagra Dxt Plus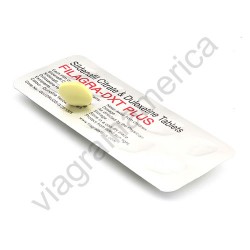 Brand:
Fortune Health Care
Availability:
In Stock
Rating :
The high dosage dual acting solution Filagra DXT Plus is a dual action medication composed for men with both penile failure condition including Erectile Dysfunction and Premature Ejaculation. This particular solution is known for relieving complete impotency condition in men from within in just minutes of its appropriate consumption. Manufacturer Fortune Healthcare Ltd. composed medicine has Sildenafil Citrate 100mg and Duloxetine 60mg as main active components.
The powerful solution is available in conventional tablet form that is easy for oral consumption and delivers optimum effectiveness. Simply consume the medication as recommended by your doctor. Swallow the classic pill as a whole without even chewing or crushing the conventional tablet. Altering the state of medicine might lower the effectiveness of the medicine. Avoid consuming the high powered dual acting pill in excess; as it might lead to some severe side effects.
Fortune Healthcare manufactured medicines are composed of the best quality and at much cheaper rates. This manufacturer is known for holding a reputation in the impotence medication producing market for delivering medicine at it's the top quality and is available at the best prices that are affordable for all who needs it. The medicine is manufactured with maintained high standards.
Filagra DXT Plus medicine in easy to consume conventional tablet form is packed in 10 classic pills per blister pack.
Manufacturer
Fortune Healthcare Private Limited
Active Ingredient
Dual acting Sildenafil Citrate 100mg and Duloxetine 60mg composed medicine in this sensational dual action medicine works best over dual penile failure. Trusted Sildenafil Citrate is the same component as in branded blue pill that helps in relieving Erectile Dysfunction condition in impotent men. Duloxetine component is another main active ingredient in the pill that helps in dealing with Premature Ejaculation.
Generic name – Sildenafil Citrate 100mg and Duloxetine 30mg
Systematic name – 1-[4-ethoxy-3-(6,7-dihydro-1-methyl-7-oxo-3-propyl-1H-pyrazolo[4,3-d]pyrimidin-5-yl) phenylsulfonyl]-4-methylpiperazine and (+)-(S)-N-Methyl-3-(naphthalen-1-yloxy)-3-(thiophen-2-yl)propan-1-amine
Formula – C28H38N6O11S and C18H19NOS
Molecular weight – 666.69992 g/mol and 297.41456 g/mol
Action Mechanism
The solution Filagra DXT Plus is a stronger version of a normal dual acting medication. This dual acting medication is known for working well for dealing with both penile failure conditions including Erectile Dysfunction and Premature Ejaculation. The medication performs sensationally by loosening arterial strains and helping the appropriate flow of blood in the penile. This proper flow of blood in the penile region helps an impotent man for attaining and sustaining a stiffer penile erection for longer lovemaking session. Duloxetine component in the solution helps an impotent man for ejaculating late at the very peak time of planned lovemaking session.
Write a review
Your Name:
Your Review:
Note:

HTML is not translated!
Rating:
Bad
Good
Enter the code in the box below: